RPA in introducing a new digital workforce in the offices. RPA is used to create software bots that can replicate or mimic humans interaction with applications. RPA bots interact with the applications on the user interface level to automate the business processes.
RPA bots are of 2 types Attended and Unattended. Sometimes, they are also known as Assisted and Unassisted bots. In this post, we are going to discuss Attended and Unattended bots in detail.
Attended Bot
Attended Bots are ready and waiting for the agents to be activated whenever they are needed. Attended bots works and share the same computer with agents. Attended bots are mainly used in front-office operations where executives are spending a lot of time with customers.
For Example, Call Centre employees rely on a variety of documents to provide the best solutions to their customers. But, gathering all necessary documents, customer history, and product details are always time-consuming. With the help of Attended RPA Bot employees can pull all necessary information within seconds. Attended RPA Bot empowers employees to be well informed and quick to respond to any call. Ultimately this will lead to great customer satisfaction.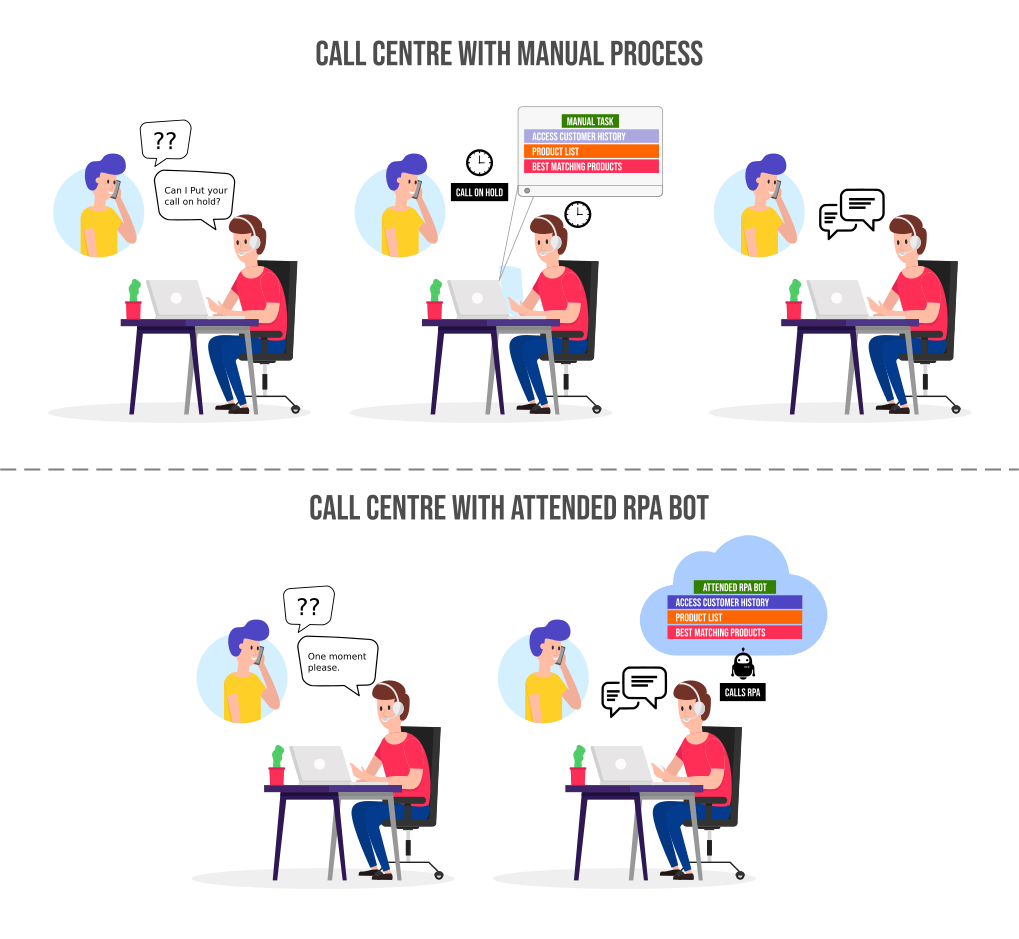 Unattended Bot
Unattended Bots don't require any kind of human intervention to complete a task or process. Unattended Bots can be triggered by an event, rules or it can be scheduled. These Bots run automatically and notify the respective stakeholder. They are used in back-office operations and generally deployed on server machines.
Consider as an example where an accountant has to daily extract information from various documents like invoices, ledger, cheques, and ledgers. After that accountant has to prepare a spreadsheet with details like Invoice Number, Company Name, Amount and send it to Superior by end of the day. The whole process can be automated with the help of an Unattended RPA bot and it will also shoot an email to the Superior at the scheduled time.
Difference Between Attended & Unattended RPA Bots
| | | |
| --- | --- | --- |
| Attended RPA Bot | | Unattended RPA Bot |
| Handles the task of individual Employee | WHAT | Automates back-office operations at scale |
| Waits for human intervention | HOW | Works without human intervention |
| Triggered by employees | WHEN | Triggered by an event, rule or can be scheduled |
RPA offers the capability to automate business processes quickly and easily. Both types of Bots use the same underlying technologies but the difference is in infrastructure and in the licensing cost. If you are looking for open-source technologies to save licensing costs, get in touch with us today.