Magento vs WooCommerce? Which is better?
Magento and WooCommerce are the most popular platforms for building E-Commerce Websites. In this post, we are going to compare the features and functionalities offered by both platforms. By the end of this post, you will be in a great position to choose the right platform for your E-Commerce website.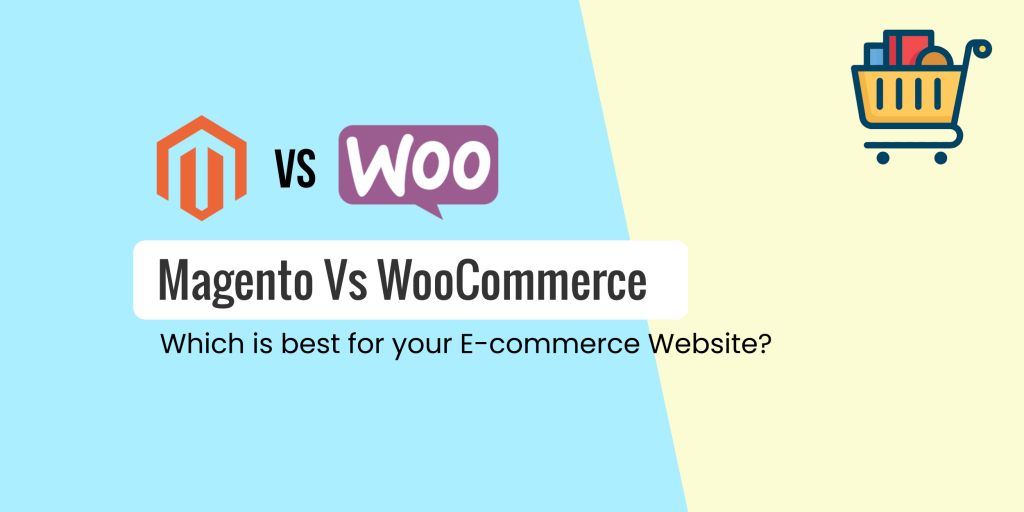 Introduction
Both Magento and WooCommerce are Open-Source platforms.
Magento was founded in the year 2007 targeting mid-size and large businesses with incredible support for customization and third-party integration. Magento has two variants – Magento Open Source and Magento Commerce. Magento Open Source is freely available, but Magento Commerce starts at a price of $22,000/annually. In this article, we will consider Magento Open Source.
WooCommerce was founded in the year 2011, targeting beginners and mid-scale businesses. WooCommerce is a plugin available with WordPress. Therefore, you need to set up WordPress before using WooCommerce.
Features
Magento and WooCommerce come with a lot of in-built features like Product & Category Management, Inventory Management, Shopping cart, Discount and Coupons, Shipping, Order, and Customer Management.
Magento being a dedicated E-Commerce Website development platform offers a larger number of built-in features compared to WooCommerce. Magento supports multiple stores which you can manage from a single admin account. Magento also provides multi-currency and multiple language features. Magento provides a feature called Instant purchase which helps existing customers to checkout fast.
Magento has a separate section for marketing that helps you set up a marketing campaign. For marketing with WooCommerce, you need plugins to manage your campaigns effectively, but you do get an in-built blogging facility as it is built on WordPress.
When it comes to additional features, WooCommerce heavily depends on plugins and custom coding. You need to spend time and money in order to find a suitable plugin for additional features and functionalities.
Plugins & Extensions
With the help of plugins and extensions/plugins, you can add a lot of customization to your E-commerce website with a quick turnaround.
Magento and WordPress both offer a good number of free and paid addons. WordPress offers approx. 59,000 plugins and Magento offers approx. 6,000 extensions respectively.
Setup
Magento is tailored for web development professionals and setting up a Magento website coding knowledge is essential. Magento setup is not easy and its documentation is written for developers and programmers.
WooCommerce & WordPress have set up wizards that will walk you through the initial setup. In comparison to Magento, WooCommerce setup is easy, but any customization in the website requires a fair bit of coding knowledge.
Security
Magento has its own security centre section, which provides quick updates and alerts on safety and security. The security centre offers many test cases on the best practices to follow to ensure the security of the platform.
On the other hand, WooCommerce is secure because of the constant updates on the WordPress platform. Today, without a doubt, WordPress is a very secure platform. Most of the security breaches happen because of third-party plugins, hosting providers, and weak passwords.
Support
Both are open-source and have huge community support from developers and programmers. WooCommerce doesn't have any direct support for its users, but you do have an option to raise a support ticket. For Magento, you get community support for the Open Source version and can get instant support with Magento if you choose Magento Commerce/Enterprise.
Pricing
Both open-source platforms are free. To build an eCommerce website you may require paid themes and plugins. A WooCommerce paid theme would cost you $50-$100, whereas Magento paid theme would cost you $100-$200. A WordPress plugin would cost $12-$100 and an extension in Magento would cost you $50-$500, depending on the plugin functionality.
WooCommerce pricing is more reasonable as plugins and themes are cheaper compared to Magento. Though, WooCommerce has less number of built-in features.
Comparison Between Magento vs WooCommerce
| | | |
| --- | --- | --- |
| | MAGENTO | WOOCOMMERCE |
| Platform | Open-Source | Open-Source |
| Hosting | Buy | Buy |
| Coding Knowledge | Required | May or may not be required |
| Website Administration | Difficult | Moderate |
| Free Apps & Plugins | Available, but limited | Available |
| Free Themes | Available, but limited | Available |
| Mobile | Yes | Yes |
| SEO Support | Complete | Complete |
| Version Update | Difficult | Moderate |
| Duration to Build | 4-12 Weeks | 2-6 Weeks |
Conclusion
Both the platforms are designed to target different kinds of customers; therefore it is difficult to say which one is better. It very much depends upon you what you are looking for. WooCommerce directs itself towards user-friendliness while maintaining low cost. On the contrary, Magento constantly aims for extended features and functionality.
Thus, if you are getting started in the E-Commerce business and have budget constraints, we would recommend you to start with WooCommerce. You can always consider moving to Magento when you have more experience in the E-commerce industry with higher budgets.