Are you planning an E-Commerce website and not sure which platform to choose. Shopify or WordPress?

In this post, we are comparing the features, advantages, and disadvantages of both platforms. This post will help you to choose the right platform for your E-commerce store.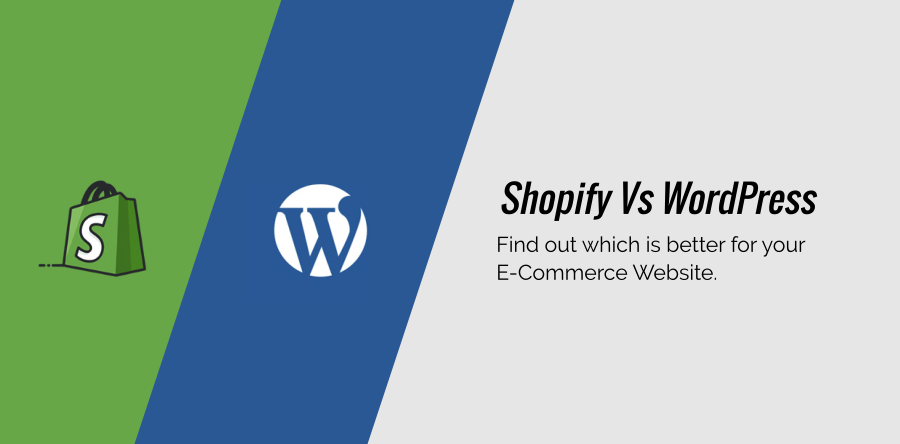 Introduction
Shopify is a dedicated platform for creating e-commerce websites. WordPress is a free open-source platform that is used for not only creating E-Commerce websites but also business and blogging websites.
Web Hosting
Web hosting is an online service that allows you to publish your website files onto the internet.
You need no hosting services with Shopify as it offers web-hosting services with a monthly subscription fee which starts at $29. With WordPress, you need to buy hosting services from a reliable hosting provider like Godaddy or Hostgator.
Security
Shopify deploys all the safety measures needed to keep your website secure and safe. Shopify offers a free SSL certificate with the subscription. In WordPress, safety concerns are taken care of by web hosting providers. You may be required to purchase an SSL certificate for your website.

SSL Certificate ensures HTTPS in place of HTTP. HTTPS increases the safety of your website and smoothens the checkout process for your customer.
Coding
No programming or coding skills are required for setting up a Shopify store. But, it requires you to be tech-savvy. For setting up a WordPress store, you need to have a fair bit of programming and coding skills. Having knowledge of UI/UX design would be a plus.
Website Administration
Website Administration includes managing products, sales, and orders for an E-commerce website. Compared to WordPress, website administration is easy on Shopify because of its user-friendly interface. Whereas, website administration on WordPress has a learning curve.
Themes
Themes are responsible for the color schemes and the appearance of the websites. Both, Shopify and WordPress offer free and paid themes.

Free themes from Shopify are good to start with. Though, it is recommended to use a paid theme as they have better UI/UX compared to free themes. The cost of a paid Shopify theme is $100-$200.

It is highly recommended to use the Paid theme in WordPress because free e-commerce themes are not up to the mark. Paid themes are extremely professional and generally come with free support for 1 year. WordPress Paid Themes offer a great level of customization in your E-commerce website. The cost of a paid WordPress theme is $35-$90.

A paid theme has better options and can increase sales by 20%.
Plugin and Apps
Plugins and Apps are pre-made plug-and-play software programs to extend the functionality of an e-commerce website.

Plugins and Apps are the same. Both Shopify and WordPress offer free and paid plugins. In Shopify, Apps are Plugins and vice-versa in WordPress. To add functionality like CRM, Chatbot, Accounting in an E-commerce website in a quick turnaround, it is recommended to use plugins and apps.
Search Engine Optimization
Shopify offers limited support for SEO, whereas WordPress offers great control over SEO. WordPress has many free plugins to enhance and analyze the on-page optimization of your website.
Platform Updates & Release
Shopify updates itself automatically whenever a new version or update releases. You don't need any skills to update the Shopify platform.

New version releases and updates can be added automatically in WordPress. Sometimes an update may break the functionality of an existing website. Thus, before making any update you have to be careful and it is advised to take the help of experts before you switch to a newer version of WordPress.
Mobile Apps
You can always convert your E-commerce website using these platforms. Both platforms have plugins and apps that will help you to create a Mobile App. Shopify Mobile app comes with an extra subscription fee, whereas WordPress Mobile app comes with a one-time payment.
Go Live
Using Shopify, you can even go live within a day if the content of your website is ready. The design and development time of the WordPress website would vary depending upon the customization. Typically, it takes 2-6 weeks time to develop a complete website in WordPress.
Comparison Between Shopify and WordPress
| | | |
| --- | --- | --- |
| | SHOPIFY | WORDPRESS |
| Platform | Dedicated E-Commerce Platform | Open-Source |
| Hosting | Free with Shopify Subscription | Buy |
| Security | Free SSL | Buy |
| Coding Knowledge | Not Required | Required |
| Website Administration | Easy | Moderate |
| Free Apps & Plugin | Available | Available |
| Free Theme | Available | Available |
| Mobile | Yes | Yes |
| SEO Support | Limited | Complete |
| Version Update | Easy | Moderate |
| Duration to Build | 1 Week | 2-6 Weeks |
Conclusion
You should go with Shopify:
If you are a complete beginner and want to start out a new E-Commerce venture.
If you are okay, with less customization.
You should go with WordPress:
If you are a bit techy and know how to work with a CMS (Content Management System).
If you want more customization and want to scale your E-Commerce business.